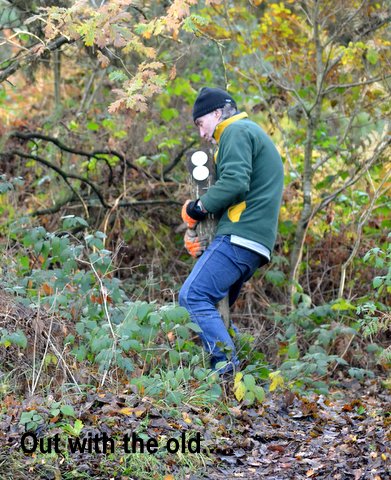 NEW WAY MARKERS INSTALLED
Work has now been carried out to replace the old way marker posts on the rides with much sturdier new ones. The remaining posts will be installed after the next phase of tree felling on the top ride has taken place.
PERMISSIVE RIDES
The Permissive Rides are shown on the map in red. These rides have been granted by the Lord of the Manor and are designed to make an attractive ride round the periphery of the Commons with cross-rides between the top and bottom rides. These rides are regularly maintained by our volunteers and we appreciate riders' consideration in using them, asking you not to stray from the marked rides or to encroach on walking tracks. The Commons are for everyone to enjoy. In winter, the ground is frequently very muddy and it is appreciated if horse riders avoid over using them when this is the case.
Please note Permissive Rides differ from Bridleways in several respects. For example no vehicles are allowed to use the rides except with the express permission of the owner of the Commons. In order to preserve their status as Permissive Horse Rides, they must be closed annually for one day, usually the first Monday in March.